Our Purpose
Welcome to OpticsMag, the optics and birding online magazine.
When you're in the market for optical equipment, you need to have done your "homework" before making a purchase. Otherwise, you may wind up paying too much money for an inferior product that doesn't even meet your needs.
This is where we can help. We're a team of outdoor enthusiasts with a passion for all things "scope-related", and not to mention, a love for birding. We know the difference between finding the "best" product on the market and finding the "right" product.
Answering Your Questions
Given the technical jargon and specifications involved in shopping for optical equipment, we know what it's like to have more questions than answers.
Our goal is to help you find the right optics for your needs by removing the mystery behind the products. When we review optics, we aim to make the technical specs and features equally digestible for novices and experts alike.
Helping You Make Informed Decisions
Making an informed decision requires some of that homework mentioned above. That's why we put so much of our resources into comprehensive reviews, in-depth model and product comparisons, and how-to guides, all with the purpose of answering your questions.
We look at every angle of a product: price, design, features, uses, specifications, and warranty. We know that every aspect is important to choosing great products. More importantly, we estimate the pros and cons of each product we review and present an unbiased opinion. If a scope is mediocre or over-priced, we will say so.
We believe that an educated buyer is the best buyer, and nowhere is knowledge more important than optics. And let's be honest, this is not the cheapest product niche in existence, but you can still get a great scope at a great price – if you know what you're doing.
Image credit: pxhere.com
Statement of Transparency & Our Process
Like magnification and field of view, transparency is important to us. First, you should know that as a member of the Amazon Associates Program, we earn fees by linking to products on Amazon – at no cost to you. If you're inspired by our reviews to make a purchase, everybody is a winner.
Above all, you should know the how and why we are OpticsMag. We want you to know more about us. So, in the spirit of full disclosure, we want to reveal our process for creating these reviews and guides.
Step 1
Do the Homework
This is another way of saying "research", of course, but we're constantly on the lookout for the best products available and learning about the latest developments in the fields of optics and birding. In this way, we are able to personally select products to review and subjects to cover.
Step 2
Test the Products
We strive to have as many of these products in our hands, getting a feel for them in real-world conditions, so our knowledge is based on experience. We do as much personal testing as reasonably possible, but we can't test every single product. It's something we're looking to improve on.
Step 3
Seek Feedback
When we can't have a product in our hands, we turn to other users and get their feedback. We pour through customer reviews on Amazon and branded websites, in search of the common denominator. "What are other users saying?" These reviews can provide valuable insight into issues that our team hasn't personally encountered.
Step 4
Turn to the Experts
We have a wide circle of friends and professional associates in the optics industry and we rely on them to make sure our details are accurate and our recommendations are strong. Expert advice is critical in the over-populated world of optical equipment – and we feel confident in our selections when the experts agree!
Whom to Trust Online?
There are dozens if not hundreds of optics websites to choose from. The problem is many of them can't be trusted to do their homework – the research to help you find the right product. You must be able to trust your favorite sites to test the products they promote. Their metrics should line up with your needs and they should have experts to consult when necessary.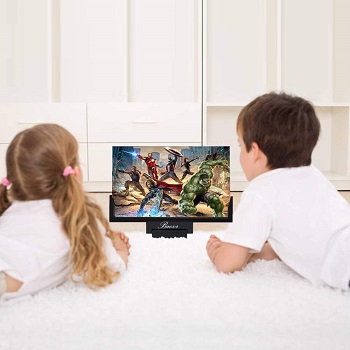 Amazon Associates Program
https://opticsmag.com is a participant in the Amazon Services LLC Associates Program, an affiliate advertising program designed to provide a means for sites to earn advertising fees by advertising and linking to Amazon.com.
Amazon and the Amazon logo are trademarks of Amazon.com, Inc. or its affiliates.
Liability Disclaimer
The information available through OpticsMag is provided solely for informational purposes on an "as is" basis at user's sole risk. OpticsMag makes no guarantees as to the accurateness, quality, or completeness of the information and OpticsMag shall not be responsible or liable for any errors, omissions, or inaccuracies in the information or for any user's reliance on the information. User is solely responsible for verifying the information as being appropriate for user's personal use.
YOUR USE OF THE OpticsMag IS AT YOUR OWN RISK. NEITHER, OpticsMag NOR ANY OF ITS SUBSIDIARIES, DIVISIONS, AFFILIATES, AGENTS, REPRESENTATIVES OR LICENSORS (INCLUDING OUR INDEPENDENT CONTRACTOR CONTRIBUTORS) SHALL BE LIABLE TO YOU OR ANYONE ELSE FOR ANY LOSS OR INJURY OR ANY DIRECT, INDIRECT, INCIDENTAL, CONSEQUENTIAL, SPECIAL, PUNITIVE OR SIMILAR DAMAGES ARISING OUT OF YOUR ACCESS OR USE OF, OR YOUR INABILITY TO ACCESS OR USE, THE OpticsMag AND THE INFORMATION AVAILABLE ON THE OpticsMag OR ARISING OUT OF ANY ACTION TAKEN IN RESPONSE TO OR AS A RESULT OF ANY INFORMATION AVAILABLE ON THE OpticsMag. YOU HEREBY WAIVE ANY AND ALL CLAIMS AGAINST OpticsMag AND ITS SUBSIDIARIES, DIVISIONS, AFFILIATES, AGENTS, REPRESENTATIVES AND LICENSORS (INCLUDING OUR INDEPENDENT CONTRACTOR CONTRIBUTORS) ARISING OUT OF YOUR USE OF THE OpticsMag AND THE INFORMATION AVAILABLE THEREON.