You may think that compact binoculars are just kids' toys, but you'd be wrong. There are a lot of models on the market today that come in a lightweight, compact frame, but also pack in the magnification and clarity that you'd expect from a far larger, and more expensive, pair of binoculars.
If you've never explored this market before, you might find the sheer number of options overwhelming, especially when you're shopping online. If that's you, you're in luck. We've created this list of reviews of some of the best binoculars of 2019 to help you find the model that's right for you.
And, if you've never shopped for binoculars before, we've created a buyer's guide that will help you learn about binoculars in general, so that you can shop with confidence.
Comparison of our Top 5 Picks
5 Best Compact Binoculars Under $100 – Our Reviews
1. Nikon 8245 ACULON A211 8×42 – Top Pick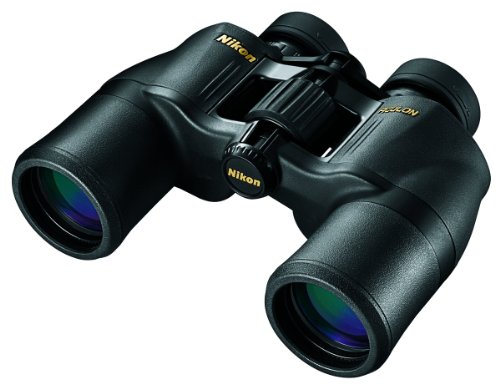 Our top compact binocular is the Nikon 8245 ACULON A211 8×42. This small model weighs less than two pounds, which makes it suitable for any expedition. It comes with a rubberized coating, which improves how well you can grip it in high-humidity or wet weather conditions. An extra nice feature of this compact model is that it comes with 42-millimeter lenses which are large enough to let in a lot of light to create bright final images, but small enough that they don't significantly expand the size of the binoculars.
This model also comes with adjustable eyepieces, which comes in handy if you're using them for long periods and want to change if they're resting on your face or hovering just off it. This is also a useful feature for people who wear glasses, as it enables you to see the image without having to take your glasses off. Overall, this is a great model for people who are looking for something that is small, but also works great, and comes at a price that won't break the bank.
Pros
Lightweight
Rubberized coating
Large lenses
Adjustable eyepieces
Cons
Some plastic construction
---
2. Gosky 10×42 4331882459 – The Runner-Up
The Gosky 10×42 4331882459 uses a compact roof prism design to significantly cut down on both height and width, which makes for an exceptionally-thin pair of binoculars, while still maintaining the large lenses needed for bright images. But, what sets this model apart is its included smartphone adaptor. Just attach it to the binoculars, insert your smartphone, and you'll be able to record video, take pictures, or look at things without having to put your eyes too close to the eyepieces.
Unfortunately, the soft case that comes with these binoculars doesn't include a place to store the smartphone mount, so you'll need a backpack or a bag in addition to the case to easily take these binoculars on the road. This model is also a bit heavy, which speaks to quality construction, but lowers its usefulness as a compact design. Overall, this model is great for people who will use the smartphone adaptor. Otherwise, it's best to give this model a pass.
Pros
Compact roof prism design
Large lenses
Includes smartphone mount
Cons
Hard to store smartphone mount
Heavy
---
3. Occer 12×25 Compact Binoculars – Best for the Money
The Occer 12×25 Compact Binoculars are the model you want to get if you want a great experience on a tight budget. This model is truly compact and is small enough that you can hold them comfortably with just one hand. They also weigh less than a pound, which means you can use them for a long time without fatigue. Of course, none of those features matter if this model doesn't work well, but rest assured, it does.
It comes with 12x magnification, which is better than expected for compact binoculars. It also produces better-than-expected images with its small-sized 25-millimeter lenses. Unfortunately, that clarity can be hard to achieve, since the focusing system for this pair of binoculars relies on using both a center adjustment knob and turns of the eyepieces to bring everything into focus, which takes a bit of work each time. However, once that's done, you get clear images in a very compact model that costs far less than many entries on this list.
Pros
Very compact
Great magnification
Lightweight
Cons
Difficult-to-adjust focus
---
4. OutNowTech SCB-1
Compared to the previous model, the OutNowTech SCB-1 has a much easier focusing system, which is good because with compact binoculars you want to get past the setup phase as quickly as possible. While it weighs just a tad more than the last model, it's a hair narrower and shorter, which means that its possibly the most compact model on this list. If you have large hands, it might be too small for you to use comfortably.
However, this model comes with an uncomfortable neck strap that is permanently attached to the binoculars. You can't do much to fix this problem, since you can't detach the neck strap that's already on there, and there's no place to add a replacement neck strap even if you could. This model also only has about 10 millimeters of eye relief, which isn't enough for glasses users. While this model is compact, it has a lot of features that will make you dislike using it in the long run and spending your money elsewhere could result in a less frustrating experience.
Pros
Easy focus adjustment
Very compact
Cons
Uncomfortable neck strap
Poor eye relief
---
5. BARSKA Floatmaster 10×30 AB11092
The BARSKA Floatmaster 10×30 AB11092 is a pair of binoculars designed for excursions that take you out onto the water. Their biggest selling point is supposed to be that they float. If you drop them in the water, then it's not a big deal, as you can pick them back up right off the surface. However, exposure to water does turn out to be a big deal, as these binoculars that float aren't waterproof. While we'll never be sure whose idea that was, it certainly wasn't a very good one.
That alone gives you reasons to not buy this model, but there are more if you need them. The quality control on this model is poor, which means that the company sometimes ships units that are impossible to focus or have other defects that keep you from using them. They also have poor eye relief to the point where you may have to press the eyepieces into your face to see anything. This model isn't a good deal, and there's no reason to buy it.
Cons
Quality control
Not waterproof
Poor eye relief
---
Buyer's Guide
Shell material
The material that forms the case with a compact binocular is arguably more important than the one on a full-sized pair. Because of its smaller size, a compact pair has less surface area which you can hold, meaning that if it has a slick exterior, you're going to have trouble keeping control. Likewise, because they tend to be so small and weigh so little, they're especially vulnerable to damage, which is something that the outer shell is designed to mitigate.
Rubberized plastic is used at the less-expensive end of this spectrum to solve both problems, as rubber remains easy to grip, even when it's humid or raining, and it also helps absorb the shock from a fall. Textured metal serves the same purpose at the high end. Untextured metal or plain plastic can both become difficult to hold in wet conditions, and while neither does as well as the previous materials regarding absorbing shock, metal cases are less likely to crack when dropped.
Safety Equipment
Because of their increased vulnerability to damage, you should treat compact binoculars more gently. One of the most important safety features with a pair of binoculars is the neck strap. You'll want to make sure that the neck strap is comfortable before buying because if it isn't, there's a chance you won't wear it while using the binoculars. And that increases the chances of dropping it.
You probably won't find too many compact models with lens caps, which are what top-of-the-line binoculars use to keep their lenses clean. Instead, look for models that come with microfiber cleaning cloths, and do your best to keep dust away from the lenses. You'll also want to look for models that come with soft or hard cases, which help keep them clean when they're not in use.
Optics
The optics on compact binoculars aren't going to be as impressive as those you find on bigger models. However, that doesn't mean that you can't find a pair with good magnification and bright images. 8x, 10x, and even 12x magnification are all available in compact forms, which means that you can get magnification on par with larger and more expensive models.
Every pair of binoculars comes with a pair of numbers that describes the images it makes. "12×35" for instance, means that the binoculars come with 12x magnification or "power" as binocular enthusiasts call it and that the lenses are 35 millimeters in diameter. The bigger the lens, the more light it lets in, which results in brighter images.
Conclusion
Nikon 8245 ACULON A211 8×42 is our top choice for compact binoculars, as it's very light and comes with large lenses that create beautiful images. The Gosky 10×42 4331882459 comes in second place with its included smartphone mount. The Occer 12×25 Compact Binoculars are the best deal on this list due to its exceptional compactness and great price. OutNowTech SCB-1 is similar to the Occer but worse in the areas that matter and comes at a higher price. The BARSKA Floatmaster 10×30 AB11092 is a floating binocular that isn't waterproof, which means you shouldn't give it any consideration.
It's not always easy to shop online, but we hope that our reviews have helped you see what options you have in the compact binoculars market.  Now that you know what you're looking for, you should be able to find your dream model.