The best binoculars can cost hundreds, and in some cases, thousands of dollars. However, few people are going to need a product that retails at that price. In some instances, even those expensive models aren't worth the money.
If you're looking to get a great pair of binoculars, but don't want to break the bank in the process, then you should check out the models on this list. We know you're shopping on a budget, and that's one of the best ways to get ripped off when you're shopping online.
We don't want that to happen to you, which is why we've done the hard work for you and assembled this list of some of the best binoculars on the market today that you can get for less than $100. You can get the quality you need a reasonable price; you just need to know where to look.
A Quick Comparison
5 Best Budget Binoculars under $100 – Reviews 2019:
1. Nikon 8245 ACULON A211 8×42 Binoculars – Top Pick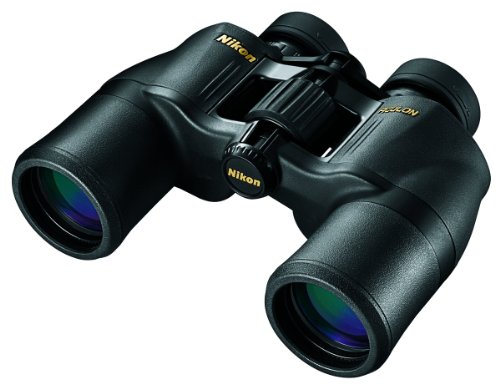 The Nikon 8245 ACULON A211 8×42 comes from a great brand and works as well as you'd expect a model with that pedigree to work. It weighs less than two pounds, so it feels sturdy while also being light enough to use for long periods of time without wearing you out. It also comes with a great rubberized coating, which makes it easier to hold this pair of binoculars in high-humidity or wet conditions. It also comes with 42-millimeter lenses, which aren't the biggest on the market but are large for this price point. Those large lenses produce a wider field of view and keep the image bright and clear.
This model also comes with adjustable eyepieces, which is a feature you'll love if you're going to be using them for long periods, as you can change whether it is resting on your face or not while you use it. One quibble is that there is some exposed non-rubberized plastic on the coating, which makes it feel a bit cheap. Overall, this is a great model for people who are looking for something that works well but comes at a reasonable price, too.
Pros
Rubberized coating
Lightweight
Large lenses
Adjustable eyepieces
Cons
Some plastic construction
---
2. Wingspan Optics EagleScout 10X42 Binocular – The Runner-Up
The Wingspan Optics EagleScout 10×42 is a great deal for people who need 10x magnification for less than $100. That feature alone would make this model a good choice for many people, as it's rare to find that level of magnification at this price point. However, this model comes with other great features. It's waterproof and fogproof, which means it's safe to use outdoors, even when it is humid or raining. This model also comes with great 42-millimeter lenses, which leads to bright, clear images.
This model is also lightweight and compact, which is great for backpacking, or just slipping it into your jacket pocket when you're not using it. This model does rely on a ball-bearing system to adjust the focus, and unfortunately, that system is a common point of failure. A pair of binoculars that can't focus is effectively useless, so if that breaks the whole unit is ruined. However, that problem is somewhat rare, and if you're looking for a 10x magnification model at this price point, you can't go wrong with this one.
Pros
10x magnification
Waterproof and fogproof
Lightweight
Compact
Cons
Some quality control problems
---
3. Bushnell Legacy WP Porro Prism Binoculars
The Bushnell Legacy WP Porro Prism comes with two great variants that you can purchase for less than $100. The slightly cheaper 8x model comes with 42-millimeter lenses like the two previous models. However, the slightly more expensive 10x model comes with large, 50-millimeter lenses that make for one of the best experiences you can have with a pair of binoculars at this price point. The detail and brightness you get with 50-millimeter lenses is going to dwarf that which you get with 42-millimeter lenses.
These models also come with a rubberized exterior, which improves your ability to grip in wet conditions, but also helps protect these models against damage if you accidentally drop them. They also come with good eye relief, which means that they're easy to use with glasses. However, they are very large models and also a bit heavy, so they're not the best in situations where every ounce matters or where space is at a premium. However, if you want that 10x experience, you're going to want to invest in one of these.
Pros
8x or 10 magnification
Large lenses
Rubberized exterior
Good eye relief
---
4. Bushnell Falcon 10×50 Wide Binoculars – Best for the Money
Look at this, another 10x magnification pair of binoculars for less than $100! It's not often that you have opportunities to get such a great deal, so you must take advantage of them when they happen. The Bushnell Falcon 10×50 Wide comes with large 50-millimeter lenses, which creates sharper images with a wider field of view and keeps it nice and bright the whole time. This model also has a short, 25-foot minimum focus distance, which means that this is a great pair for when you need to see something out in the yard from inside.
The one knock on this model is that it comes with truly poor eye relief. 9 millimeters is going to be far too short for people who wear glasses, and there's a chance that people with excellent vision will find that distance uncomfortable, too. However, if you're looking for a steal, this model can be had for a great price. If you're looking for a great deal and want a 10x magnification pair of binoculars, look no further. This model is the one for you.
Pros
10x magnification
Large lenses
Close minimum distance
---
5. Eschenbach 4256125 Budget Binocular
The best thing about the Eschenbach 4256125 is that it folds up into a reasonably compact form when not in use, which means that you can easily put it in a jacket pocket or a backpack when you're not using it. However, you might find yourself not using it more than you'd like, as it comes with several glaring flaws. The first of these is its exceptionally small lenses. 25-millimeters is very small, even for a discount model, which this is not. Lenses that small produce dark images, and give you an incredibly narrow field of view, which makes for a bad deal.
That would be less of a problem if the exit pupils weren't also tiny. 2.5-millimeter exit pupils are hard to see through are between 1/3 and 1/2 of the size that you'd expect to see on a good pair of binoculars. Topping it all off is the fact that is an ugly pair of binoculars. While they don't have to look great to work great, this pair does neither, and that sinks it to the bottom of the list.
Cons
Small lenses
Ugly
Small exit pupils
---
Buyer's Guide
We hope that our reviews have given you some ideas about what you should be looking for when you shop for binoculars. If this is your first time browsing binoculars or you want to learn more about the thought process that went into our reviews, be sure to check out this buyer's guide. We've packed it full of good general information about binoculars so that you can learn about what features you should be on the lookout for.
Optics
The most important feature on a pair of binoculars is easily the optics. Good optics can be expensive, but you can also get a good deal at a lower price if you know where to look. Binoculars come with a pair of numbers that describe their optical performance, that usually look something like this: "10×50." The "10" represents the magnification, so in this instance, the view through the binocular is 10 times magnified. The second number is the diameter of the lenses in millimeters, so in this example, the lenses are each 50-millimeters in diameter.
Bigger lenses are usually better, as they let in more light, which leads to brighter images but also create a wider field of vision. While you're unlikely to find ED lenses at this price point, they are some of the best lenses you can find in relatively-inexpensive models. ED, or Extra-low Diffraction lenses fight chromatic aberration by focusing all colors that pass through the lens to a single point. That makes the image sharper and keeps the level of detail high in high-magnification devices.
Shell Material
The outside of your binoculars can't make or break even the best optical systems. If the outer shell is slick, you're far more likely to drop it, which also greatly increases the odds of breaking it. Furthermore, the material from which the shell is made can have a big impact on whether or not it can survive a fall, which means that getting the best shell you can for the price should always be something for which you strive.
The best shells are textured metal ones, which have the highest durability and due to their texture, are also easy to grip in moist environments. However, they also tend to be the heaviest models, which is something you should consider if weight is a factor in future travel. The next best shell is the rubberized plastic shell, which is much lighter, but the rubberized texture helps you keep a firm grip on the binoculars. However, they don't hold up as well when dropped, so they're not as durable in the long run.
Next down the list is the plain-metal shell, which can be slick in the rain, but holds up well if dropped. Finally, the plain plastic shell is the cheapest and lightest, but it can be hard to hold and also suffers from the lowers durability as it lacks even a rubber coating to insulate it from the fall.
Safety Equipment
Of course, you don't need safety equipment to protect you from your binoculars, but given the fragile nature of their internal components, any equipment or features that protects your binoculars improves its value. Neck straps are one of the most common and most effective means of keeping your binoculars save. They also serve as a convenient way to keep your binoculars handy without having to hold them in your hands constantly.
Lens caps are another important safety feature. It's best if a model comes with lens caps so that you can use them while the binocular is in storage, as that keeps them dust-free and protected. Some models come with lens caps that are permanently connected to the shell, which some people love for its convenience, while others dislike it, wishing they had the detachable kind that they could put away while they use the pair. Both kinds work well, but you should make sure you know which kind you're getting before you buy.
Have a different budget? Here are our other lists!
– Which are our favorite binoculars for under 150 USD?
– Which binoculars under 500 USD is the winner of our tests?
– Looking for a monocular instead? Here's our all-time favorite pick
Conclusion
The Nikon 8245 ACULON A211 8×42 is a classic, reliable Nikon-brand pair of binoculars, that easily rises to the top of our list. The Wingspan Optics EagleScout 10×42 comes with great magnification in a lightweight package but is kept out of first by some quality control problems.  The Bushnell Legacy WP Porro Prism is a great deal, and you can find the largest lenses on this list on this model. The Bushnell Falcon 10×50 Wide is the best value, given its low price and its close minimum focus distance. Finally, the Eschenbach 4256125 is ugly, has small lenses, and doesn't work well, so you should avoid it.
Hopefully, our reviews and our buyer's guide have helped you figure out which features you should pay attention to when shopping for binoculars. Armed with that knowledge, you should be able to find the model that works best for you.